Welcome to the PennTownship Website!
See below for 'quick view' of 'what's new' in the township.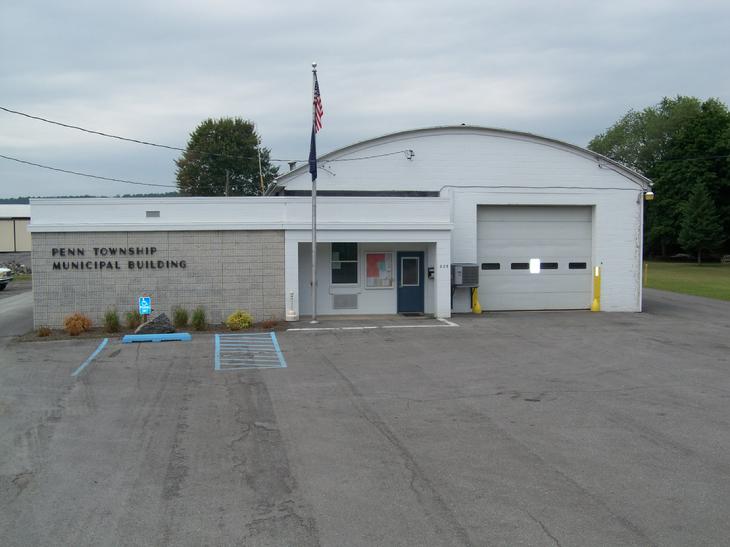 Penn Township Building
The Penn Township Municipal Building
Invitation to a Dedication in the Park
At 3pm on Saturday, November 16, 2013, in the East Snyder Park there will be a planting and dedication of a tree provided by the Scott Kerstetter family. Scott and his family reside in Penn Township and would like to dedicate this tree in the name of his mother Carol who lost her battle with cancer. Feel free to attend and show support.
Leaf collection continues throughout the township. Please call if your leaves are ready and we have not been by (570-374-4778).
The newsletter is out and every household should have received theirs by now. It's bright orange, please call if you did not get one.
Seems there are some who have no regard for the property of others...we have someone who continues to bring items to the compost site that do not belong. Shingles, drywall, tires etc. This is illegal dumping, the state police have been notified and all eyes are out for the culprit.
Residents please report any questionable or suspicious behavior or illegal dumping by calling 911 immediately.
Continued abuse of this site will require it to be closed.
2014 East Snyder Community Garden
The 2014 rules and application to acquire a plot in the East Snyder Community Garden are available. Check under the community garden tab on this website or f
or more information, visit their website at

escgpa.org

or email them at

escgpa@gmail.com
While the park is still OPEN and we welcome you to continue using it throughout our long dreary winter months...t
he new modern restrooms have been CLOSED for the season :-( .
One of the 'original' old school restrooms near the softball fields is available.
All approved meeting minutes are continually updated (Supervisor and Planning Commission) and added to the site.
Remember all meetings are open to the public! Can't make a meeting, check out the minutes to see what is happening in your Township.
Leaf Collection
Leaf collection is on going and will continue thru mid to late November as needed or...depending on the weather.
If snow comes the leaf collection equipment must be removed from the truck.

Get your leaves ready and move to the curb. Do not put your leaves in the street.
Remind small children leaf piles are not good hiding spots
when they are placed along the road.

Leaves ONLY...no sticks, stones or bags!
Couple interesting things turning up in the leaves -
we've acquired a screwdriver and plenty of dog waste.
Seems there might be a more appropriate place to put the dog waste.
Cat and dog waste is not material that belongs in the compost pile and
not that enjoyable for the employees.
Maybe you really never thought about...hence the reason we are posting it here.

The roadcrew will make several rounds as needed for leaf collection. We know your leaves are there, please call only if your leaves have been ready for more then 2-3 days.



Penn Township Newsletter
We have completed printing the Autumn/Winter 2013 Penn Township newsletter
.
Newsletters are addressed to every household, all businesses, and land and property owners, who may or may not reside in Penn Twp.
They went to post Tuesday, October 22, 2013.
It is bright orange and should be easy to spot.
Newsletter includes some great information for residents
and a couple interesting stories from the East Snyder Park.
Newsletters should have arrived to everyone by now.
If you have not received yours, please call us!





Please beware there are reports of racoons that have tested positve for rabies in Snyder County.
If you encounter a sickly or an agressive animal - do not approach the animal and please contact the game commission at

1-814-643-1831



Battram Pavilion

Reservations are being accepted for 2013.
To check your date call today!
570-374-4778
Battram Pavilion is located in the East Snyder Park.
The pavilion is open for use by the public,
but is available for private use and may be reserved for your event.
The 2013 non-refundable fee to reserve the pavilion is $50.
Space will be confirmed and held after receiving payment.
Please verify availability with the Township office
at (570) 374-4778
before making your plans.
---
NEW - to reserve the pavilion a

User's Agreement

is
required.
Agreement's are available at the
Township Office, on this website, or via e-mail at

bpenntownship@yahoo.com

. Click on the link below
or go
to the

Applications for Permits

link on the left.


---
View from the sky looking at the East Snyder Community Garden!
Penn Township recycling site continues to exceed our expectations
!
Except for the occasional items like, an iron, plate glass, a couple tires,
and the numerous plastic 'clam shell' type containers,
our residents and the surrounding areas are doing a good job at only leaving the acceptable items.


Our security cameras are up and finally running allowing us to review any visit to our recycling bin. Charges will be filed against anyone who abuses our site.
Bins are clearly marked indicating what goes where.
There is an information flyer for recycler's on the fence with detailed
bin information and is updated as warranted.
Take a look at the board along the fence.
This displays items left behind that are NOT accepted here.
Quick list of things to note:
All boxes must be broken down.

No deli trays, strawberry containers, clear plastic cookie trays and the like, these are NOT a #1 or #2 bottle or jug.

Take all your bags home with you -

unless they contain shredded paper

Read the signs on bins, they are clearly marked.

Plate glass is not allowed - we are not the landfill.

Compressing any plastics and returning lid to container saves lots of space and makes our site even more efficient...keeping it free!

Cardboard bin - all cardboard, books (hard and soft cover), junk mail, packaging boxes, bagged shredded paper, ANY clean dry paper material go in this one bin!
The printable document below has a map of the site indicating
how the bins will be situated and what goes in each.
Caps may remain on all #1 and #2 plastics!
Rinse, compress and return cap to bottle or jug.
We hope you find Penn Township's Web Site useful and informative. Explore the links in the left margin. Check back often for new updates and information.



Penn Township Contact Information

:



e-mail

- penntwp@ptd.net


telephone

- (570) 374- 4778


fax

- (570) 374- 4931











Community Build Day Photo - October 2007
Send technical questions to webmaster@penn-township.net
Copyright © 2009 Township of Penn, Snyder County, Pennsylvania, All Rights Reserved