Welcome to our PennTownship Website!
Scroll down for 'quick view' of 'what's new' in the township.
See links along the left for more detailed information.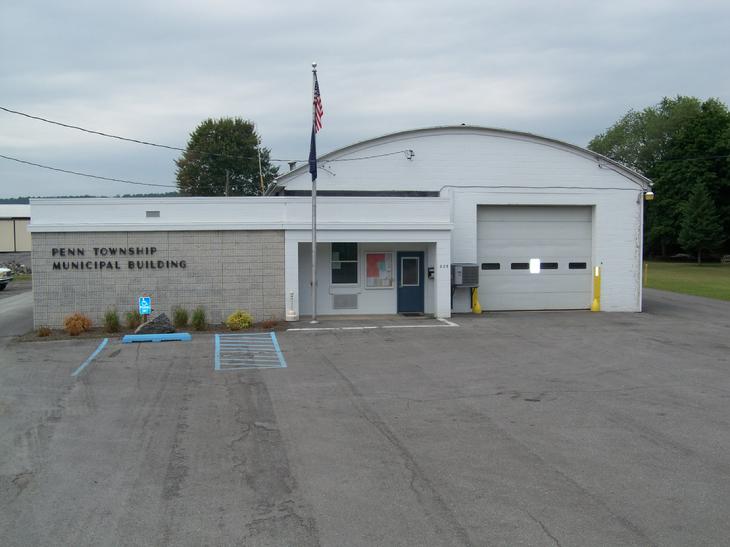 Penn Township Building
The Penn Township Municipal Building
New information added to website, followed by some important and current other material:
Benefit Tractor Pull - Pull will benefit Andrew Snook, farmer who fell from silo, please read the details below.

Leaf Collection has started - see details below

Veteran's Memorial Site Dedication - On Veteran's Day, Tuesday, Nov. 11, 2014 at 11 am, a memorial site dedication will be held in the East Snyder Park. All are invited to attend and light refreshments will be provided. If you purchased a brick for this site prior to Oct. 1, 2014 your brick will be installed for the dedication. Bricks are still available to be purchased and installed. More details below with brick order forms.

Camp Cadet – Susquehanna Valley Law Enforcement Camp Cadet. Click on the link below to see the flyer with details on this great program, contacts and how you can help support this program.
Hard to Recycle Items – the link below will produce a two page document with locations that accept those unusual or hard to recycle items like: CFL light bulbs, paint, flower pots and trays, electronics, etc.
Saturday, October 25, 2014
Middle Creek Tractor Association Show Grounds
Pull will benefit Andrew Snook,
farmer who remains in the hospital after a recent fall from a silo.
Admission is free! (donations to the Snook benefit fund will be accepted)
At 10:00 am on Saturday there will be an antique tractor pull.
At 6:30 pm there will be two classes of tractor pulls:
Great way to come out check out the local tractor pulls and support a good cause.
Leaf collection has begun!
The road crew will be out as weather and work schedule permits.
If your leaves are ready for collection, feel free to call the office
and make sure we are aware.
Remember - leaves and grass clippings ONLY!
No sticks, stones or pet waste.
374-4778 - leave a message with your address if after hours.
Check out the newly completed
App VanNuys Family Pavilion
While sooooo much good is noted above
there is also the bad....there are some who
have no respect for all the time, effort
and money people put into making and keeping things nice for our residents.
The good...Penn Township provides a compost site for all to enjoy. Providing a place, easily accessible to all, to get rid of all the unwanted yard waste. Penn Township then grinds and prepares these materials to provide mulch and compost FREE to all.
The bad....what do we get for that, we get all the crap that does not belong at the compost site. Your roofing shingles, your cinder blocks, your transport containers, your flower pots and garbage bags, your treated wood and construction waste etc...this is what will ruin this free service for all of us. Remember this is YOUR compost site, while the police patrol it as they can, you can report any illegal or even suspicious activity. Violators will be prosecuted. If it's not yard waste material, then it is littering!
The good...WOW, have you been to the new park restrooms? This was an 80K project that happened because of the generosity and voluntarism of a select few, who worked their tales off to provide a nice clean modern restroom. What could be better then to have a great day at the park with your sports team, your family for a picnic, moms and their children at the play set, a company picnic, a great place to just hang out with friends.... and boy o boy, what if you need to go to the bathroom, taaadaaaa, there just happens to be a great restroom!
The bad...some have still not learned mature bathroom etiquette. Again, these bathrooms belong to the users of the park...if you see inappropriate behavior by anyone of any age you need to report what you see. I so believe in karma....you can't continue to do wrong and get away with it, just so you know!
Remember, Penn Township belongs to all of us,
let's not allow a few to ruin all the good we have.
East Snyder Park News…
The latest project nearly completed at the East Snyder Park is the veteran's memorial monument. This monument will complete an area near the entrance to the park that will be pleasing to the eye and have special meaning to many. The monument will be a perfect way to honor and salute those who sacrificed so much, enabling each of us to live in the land of the free and the home of the brave!
__________________________________________________________________________________
A dedication of this amazing memorial is scheduled for Veteran's Day.
That's Tuesday, November 11th, 2014, at 11 AM.
Light refreshments will be provided.
All are invited to attend.
While this memorial will be dedicated on 11/11/14 bricks will continue to be sold. Order forms are below.
Any brick that was ordered by October 1st will be installed at the dedication.
_____________________________________________________________________________________________________________________
The East Snyder Regional Recreation Association has organized a monogrammed brick sale that will help to fund the completion of the project. All monogrammed bricks will be installed around the base of the monument and will permanently show your support of your favorite veteran(s).
It's been pointed out the bricks can be for anyone and not veterans only. You can show your support of East Snyder Park, its volunteers etc. with your message.
The goal is to sell 350 – 375. Get an order form with all the details and place your order today.
$50 – 4" x 8" brick – up to four lines (see the example)
$100 – 8" x 8" brick – up to eight lines
A scaled drawing of the proposed finished memorial is in the link below.
Order forms will be available at your local veterans club, www.eastsnyderpark.com,
at www.penn-township.net, (see below for a link to order form) at the Penn Township office or any park board member.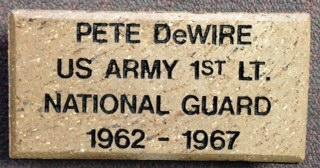 Sample of what a personalized brick with 4 lines could look like. See link for order form below.
2014 - Horseshoe League

The 2014 season is nearly over and new dates and information will added as received.

Signups were Wednesday, April 23rd and Friday, April 25th at the pavilion at East Snyder Park.

Membership fee is still $20 which allows the member to throw in singles and/or doubles.

Singles will be on Tuesdays and is handicapped at 80% and 3 games a night.

Doubles will be on Thursdays and 4 games a night playing cancellation shoes.

Both nights will start at 7pm.

Bring your own shoes, but some can be provided if needed.

We will start league play May 6th and 8th, and run through August.

Men, women, youth, beginners, and novice throwers alike are all welcome.

We are here to have fun and promote the sport.

Need more details or have a questions,

call Rick Hawk at 570-374-3845.






THREE NEW ORDINANCES AND ONE NEW RESOLUTION ADOPTED IN PENN TOWNSHIP
Ordinance 2014-01 - This ordinance restricts parking and placing property on or along township roads
during and following any snowfall or weather emergency.
Ordinance 2014-02 – This ordinance establishes the speed limit for motor vehicles traveling on Old Colony Road
between the sharp curve west of Quarry Road and Route 204. (reduced from 40 mph to 25 mph)
Ordinance 2014-03 – This ordinance establishes the speed limit for Clifford Road between Salem Road and Route 522.
(reduced from 35 mph to 25 mph)
Resolution 2014-06 – This resolution sets fees for tournaments that are held in the East Snyder Park.
Resolution 2014-07 - This resolution allows an appliocacant to submit a request for waiver from the requirement of submitting a land development plan.
Click on the document links below to see
each ordinance or resolution in its entirety and how it might affect you.

Battram Pavilion
or the
Van Nuy's Family Pavilion


Reservations are being accepted for 2015.
To check your date call today!
570-374-4778
Both pavilions are located in the East Snyder Park.
The pavilions are always open for use by the general public,
but are available for private use and may be reserved for your event.
The 2015 non-refundable fee to reserve a pavilion is $50.
Space will be confirmed and held only after receiving payment.
Please verify availability with the Township office
at (570) 374-4778
before making your plans.
---
NEW - to reserve a pavilion a

User's Agreement

is
required.
Agreement's are available at the
Township Office, on this website, or via e-mail at

bpenntownship@yahoo.com

. Click on the link below
or go
to the

Applications for Permits

link on the left.


---
View from the sky looking at the East Snyder Community Garden!
Pe
nn Township recycling site continues to exceed our expectations
!

Except for the occasional items like, an iron, plate glass, a couple tires,
and the numerous plastic 'clam shell' type containers,
our residents and the surrounding areas are doing a good job
at only leaving the acceptable items.


The security cameras are up and running,
allowing us to review any visit to our recycling bin.
Charges will be filed against anyone who abuses our site.
Bins are clearly marked indicating what goes where.
There is an information flyer for recycler's on the fence with detailed
bin information and is updated as warranted.
Take a look at the board along the fence.
This displays items left behind that are NOT accepted here.
Quick list of things to note:
All boxes must be broken down.

NO deli trays, NO strawberry containers, NO clear plastic cookie trays and the like, these are NOT a #1 or #2 bottle or jug.

Take all your bags home with you -

unless they contain shredded paper

Read the signs on bins, they are clearly marked.

Plate glass is not allowed - we are not the landfill.

Compressing any plastics and returning lid to container saves lots of space and makes our site even more efficient...keeping it free!

Cardboard bin - all cardboard, books (hard and soft cover), junk mail, packaging boxes, bagged shredded paper, ANY clean dry paper material go in this one bin!
The printable document below has a map of the site indicating
how the bins will be situated and what goes in each.
Caps may remain on all #1 and #2 plastics!
Rinse, compress and return cap to bottle or jug.
We hope you find Penn Township's website useful and informative. Explore the links in the left margin. Check back often for new updates and information.



Penn Township Contact Information

:



e-mail

- penntwp@ptd.net


telephone

- (570) 374- 4778


fax

- (570) 374- 4931











Community Build Day Photo - October 2007
Send technical questions to webmaster@penn-township.net
Copyright © 2009 Township of Penn, Snyder County, Pennsylvania, All Rights Reserved