Welcome to our PennTownship Website!
Scroll down for

quick view

of

what's new

in the township.
See links along the left for more detailed information.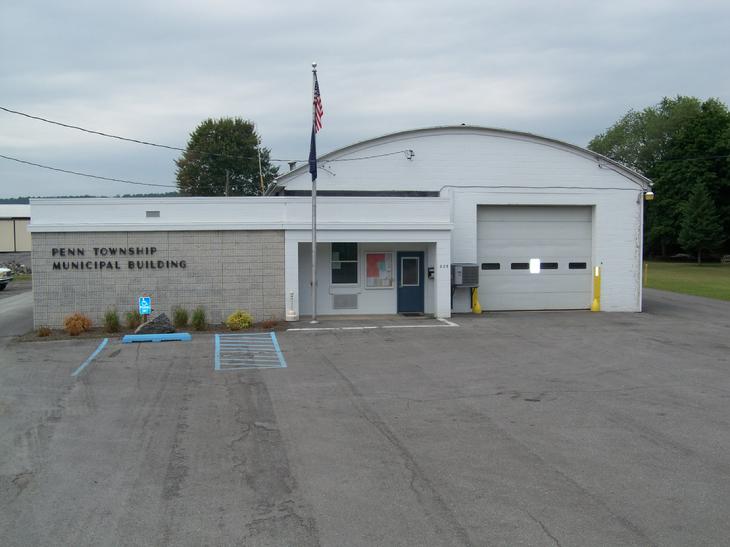 Penn Township Building - 2011
The Penn Township Municipal Building
PUBLIC NOTICES
Hey look, a new tab on our homepage. In the left column we have added PUBLIC NOTICE. Click on this tab to see all public notices that have been advertised. Penn Township publishes allo public notices in the Daily Item.
Another option to find ALL advertised public notices in Pennsylvania, see www.publicnoticepa.com Open this page and look on the left side you search the Daily Item for all their published PUBLIC NOTICES.
Community Croquet Challenge
Check out the flyer below about the upcoming COMMUNITY CROQUET CHALLENGE, MALLET MADNESS. This event scheduled for May 21, 2016 at Rotary Field will provide an opportunity for the Rotary Club to raise additional funds to be used for philanthropic work, while providing an opportunity for local non profits and charitable organizations to publicize their organizations and win money for their group.
Take a look at the flyer below and click on the link with the event brochure for even more information.
2016 Susquehanna Valley Horseshoe Club

Looking for a new activity....the 2016 horseshoe season is just around the corner.

Tuesday, April 26th - 6 to 8 pm

Thursday, April 28th - 6 to 8 pm at the courts in the East Snyder Park.

Registration Fee: $20




The season begins May 3rd, 2016.

Singles play on Tuesday's and doubles on Thursday's at 7pm.

Men and women ages 14 and up are welcome.




Please open the flyer link below for more detailed information.



Penn Township Zoning Map and Zoning Ordinance

For some time the Penn Township Planning Commission, at the request of the Board of Supervisors have been working to update the entire Penn Township Zoning Ordinance 2005-01. With this update so comes the possibility of updates to the Penn Township Zoning Map.
Please DO NOT be alarmed there will be changes to zoning that will happen without informing our residents. No changes will be finalized and made to our ordinance or zoning map without proper advertisement to get word to our residents. This information will come via this website, emails to township residents, the township newsletter, public hearings and advertisements in the local newspaper.
Over the years, a few residents have asked the township to consider changes to certain zones in the township. If you are one of these people and are a landowner in Penn Township and you want a zone change considered for your land parcels, please provide your request in writing to Penn Township, Attn: Planning Commission, 228 Clifford Road, Selinsgrove, PA 17870. This written request should include as much detail of your situation that you can provide along with contact information.
The map below is the Penn Township Zoning Map. While it may not be the easiest to see it will give you an idea how Penn Township is zoned. The map prior to adding to this website is a zoomable map. If that feature is inaccessible on the map below...if you email bpenntownship@yahoo.com and request a zoomable version we will get that right out to you.
Penn Township Zoning Map
EAST SNYDER COMMUNITY GARDEN

971 UNIVERSITY AVENUE
See the Community Garden link in the left column to access the 2016 Garden Plot Registration Form and the 2016 Rules and Waiver document.
It's not too early to rent your space.
COMPOSTING - The Quick and Dirty Tips

- all are welcome to attend an informal composting "class" with Susquehanna University professor,
Class will take place in the basement community room at the Selinsgrove Boro building at 1 North High Street.
April 19, 2016 at 6:00 pm...don't be late for class!
The simple definition provided by Merriam-Webster:
1. A thing, or situation that is annoying or that causes trouble or problems.
2. Something that is annoying, unpleasant or obnoxious.
You might wonder why this question is posed. Penn Township has an ordinance #92-3, adopted by the Board of Supervisors in 1992, that was 24 years ago. To read this ordinance a link has been provided at the bottom of this article. This ordinance was enacted to provide for the health, safety and welfare of the Township and its residents. Over time...things change and things may not work as well or as intended.
Penn Township receives calls, complaints and questions about many different situations in the township. From barking dogs, pet waste left here there and everywhere (cats too), burning, fireworks, garbage strewn along roads and properties, stormwater runoff, other domestic animals running about the township, disabled/unlicensed/unregistered vehicles .....the list goes on and on.
The ordinances on the books are the township's guide for enforcement. If doing so (enforcing) is encumbered by the ordinances themselves, then should these ordinances be addressed?
Penn Township has arrived as this crossroad...because while we receive complaints and questions as noted above, to some extent, the current ordinance is not the most enforceable. With that as a known fact, complaints still coming and residents questioning what we are doing...
the Penn Township Planning Commission over the past few years started to review, study and research many nuisance ordinances and with the help of legal council, has worked to pull together a revised DRAFT version of a nuisance ordinance for Penn Township.
This DRAFT prepared by the Planning Commission, and provided to the Board of Supervisors, was advertised in the Daily Item on February 15, 2016, for possible adoption at the March 2, 2016 Board of Supervisors meeting.
A few township residents were present at this meeting and opinions were heard. As a result a couple of things happened:
1. the ordinance was not adopted at that meeting
2. the open discussion lead to thoughts and ideas to be addressed
a clear policy for enforcement

how and which complaints get addressed

is there some hardship that may be preventing adherence to the ordinance

is there help, we the people could provide, maybe create a service organization

should there be a provision for an extension of time to adhere to the ordinance
We are looking for your point of view and your opinions.

All residents

are invited to attend the next Board of Supervisor meeting where we will again open for discussion the revision of the Penn Township nuisance ordinance.
The proposed ordinance is also provided in a link below. Take a minute to read both and really think about how either ordinance may effect you and your livelihood. Do you think the township is currently providing for the health, safety and welfare of all residents? What would you like to see different?
Open discussion and the opinions of many are an important factor in the decision made by the Board of Supervisors.
Please attend the Wednesday, April 6th, 2016 at 7 PM, Board of Supervisor meeting.
The amazing American flag found in the attic of the
What should we do, if anything, with this flag?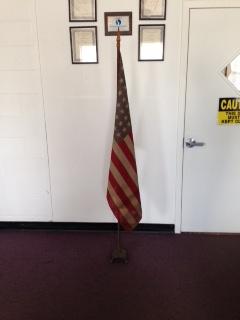 American flag found in the attic of the township building.
Base found with the American flag in the attic.
2016 Snyder County Recycling Event
Click on link below to open flyer.
This never changes no matter the year, the season, or the neighborhood.
...if you walk your dog through our Penn Township neighborhoods or the East Snyder Park, please be courteous and clean up after your pet.
If your dog is off your property it is your responsibly to have your dog on a leash and you must cleanup after him or her.
Dog Issues - SC DOG WARDEN - Ken Snyder, 570-350-7381
A Benefit Color Run -

COLOR DISCOVERY CLASH
Saturday, April 30th, 2016
This race will benefit The Children's Discovery Center
Start and finish at the Salem Lutheran Church on Salem Road
Click on

Color Discovery Clash

to read more and register.
Please read the following letter from PPL with reference to tree trimming and line clearing.
Following the letter you will find a link to a "fact sheet" with lots of information on the what, how and why of tree trimming.
Open Letter to Susquehanna Valley Residents
Did you know Penn Township has a 48 acre business park waiting to be filled?
Pawling Station Business Park sits along Route 522 headed west toward Middleburg at the end of our township.
This business park has five 3 to 21 acre lots zoned industrial. The lot lines are flexible and the mixed-use park is pad ready. All sites are equipped with public water, public sewer, natural gas, three-phase electric, access to high-speed internet and a common stormwater management system.
check it out...www.gsvcc.org/pawlingstation
All past issues of the Penn Township newletter are available in the Newsletter tab in the left column,
just click and all past newsletters are available there.
A newsletter was not published in 2015 but we have hopes of getting back into the swing of things and get one out in 2016
.
East Snyder Park Veterans Memorial
Battram Pavilion
pavilion # 1 - next to the horseshoe pitching area
and
Van Nuys Family Pavilion
pavilion #2 - behind the LL Field, nearest the original softball fields
Reservations are now being accepted for 2016
To check your date call today!
570-374-4778
Both pavilions are located in the East Snyder Park.
The pavilions are always open for use by the general public,
but are available for private use and may be reserved for your event.
The 2016 non-refundable fee to reserve a pavilion is $50.
Space will be confirmed and held only after receiving payment.
Please verify availability with the Township office
at (570) 374-4778
before making your plans.
---
To reserve a pavilion a

User's Agreement

is
required.
Agreement's are available at the
Township Office, on this website, or via e-mail at

bpenntownship@yahoo.com

. Click on the link below
or go
to the

Applications for Permits

link on the left.


---
View from the sky looking at the East Snyder Community Garden!
We hope you find Penn Township's website useful and informative. Explore the links in the left margin. Check back often for new updates and information.



Penn Township Contact Information

:



e-mail

- penntwp@ptd.net


telephone

- (570) 374- 4778


fax

- (570) 374- 4931











Community Build Day Photo - October 2007
Send technical questions to webmaster@penn-township.net
Copyright © 2009 Township of Penn, Snyder County, Pennsylvania, All Rights Reserved