Welcome to our PennTownship Website!
Scroll down for 'quick view' of 'what's new' in the township.
See links along the left for more detailed information.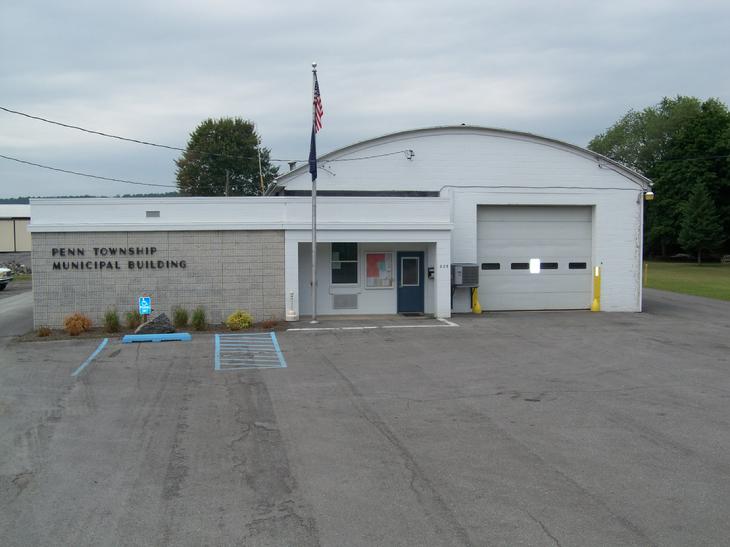 Penn Township Building
The Penn Township Municipal Building
Parking Restrictions are in effect for eight (8) hours after any public weather or emergency advisory
for
all Penn Township streets.
All vehicles must be removed from the streets to avoided a ticket or removal.
Please scroll down to see more information
Parking Restriction Ordinance 2014-01,
including a link to read the complete ordinance.
Sealed bids are being accepted for a table owned by Penn Township.
This is a 95" X 40" table previously used in our meeting room.
Table is very heavy and in good condition.
You may view the table during office hours Monday thru Friday 8:30am - 4:30pm.
Bids in a sealed envelope marked 'Table Bid' will be accepted in our office until close of business (4:30pm), on Wednesday, April 2, 2014. Bids will be opened during the Supervisors meeting on Wednesday, April 2, 2014, at 7PM.
Winner will be notified on Thursday, April 3, 2014 if not present for opening.
Currently there are NO transient merchant permits issued for Penn Township.
Recently there have been reports of door to door
meat sales but this company
has not registered in the township.
Do ask sales personnel for their Transient Merchant permit.
A permit is required for door to door sales in Penn Township.
This does exclude Boy Scouts, Girl Scouts, school student sales and insurance agents.
All others must acquire a permit.
This permit collects information from applicants and allows us
and you to
know who is knocking on your door.
Please contact the township office if you have concerns about door to door sales.
2014 Recycling Event Coming to Snyder County
Monroe Township Shed
on Park Road - 1 mile from Rts 11 and 15
Friday, May 2, 2014 3pm - 7pm
Saturday, May 3, 2014 9am - 1pm
Cick on the link below to view the flyer with all the details and contact information.
Snyder County Conservation District
2014 Annual Tree and Plant Sale Pre-Order Form
Go to the SCCD link in the left column.
Seeds, trees, tree tubes. soil test lits, rainbarrels, bat boxes,
bluebird boxes, potted perennials
New information of interest to Penn Township residents
:
Three newly adopted ordinances and one new resolution.

Seed exchange at the Rudy Gelnett Library.

East Snyder Community Garden plot registration.

Color Me Purple 5K Run/Walk -

benefit Selinsgrove Relay For Life

USTA Commute
THREE NEW ORDINANCES AND ONE NEW RESOLUTION ADOPTED IN PENN TOWNSHIP
Ordinance 2014-01 - This ordinance restricts parking and placing property on or along township roads
during and following any snowfall or weather emergency.
Ordinance 2014-02 – This ordinance establishes the speed limit for motor vehicles traveling on Old Colony Road
between the sharp curve west of Quarry Road and Route 204. (reduced from 40 mph to 25 mph)
Ordinance 2014-03 – This ordinance establishes the speed limit for Clifford Road between Salem Road and Route 522.
(reduced from 35 mph to 25 mph)
Resolution 2014-06 – This resolution sets fees for tournaments that are held in the East Snyder Park.
Click on the document links below to see
each ordinance or resolution in its entirety and how it might affect you.

Please click on PDF link below to access the
registration form for the first annual
Color Me Purple 5K Fun Run/Walk
Registration starting at 7AM
Fun Run/Walk starting at 9AM
Pre registration ($20) guarantees a t-shirt.
Pre registration ends Friday, February 21, 2014
All proceeds benefit "Relay For Life of Selinsgrove"
'Like' - Hope, Walk, Cure Relay for Life Team on Facebook.
FYI - the 'powder' mentioned on the registration form is cornstarch!
Want to share a ride to work?
Click on the link below and check out the car
pooling opportunities
with USTA Commute.
Spring is just around the corner...I'm sure of it!
The park board is still looking for some volunteers to....
ADOPT A FLOWER BED
There are about 15 flower beds within the East Snyder Park, each varying in size. The park and rec board is looking for individuals or groups who would be willing to take the responsibility for the upkeep of a designated bed or maybe 'just a section' of a larger bed.
This would be a great opportunity to give back to the community,
put your gardening skills to work and add a touch of YOU to the East Snyder Park.
If you or your group are interested please contact the township office at 570-374-4778 or Pete and Cookie DeWire at 570-259-1838.
Battram Pavilion

Reservations are being accepted for 2014.
To check your date call today!
570-374-4778
Battram Pavilion is located in the East Snyder Park.
The pavilion is open always for use by the general public,
but is available for private use and may be reserved for your event.
The 2014 non-refundable fee to reserve the pavilion is $50.
Space will be confirmed and held only after receiving payment.
Please verify availability with the Township office
at (570) 374-4778
before making your plans.
---
NEW - to reserve the pavilion a

User's Agreement

is
required.
Agreement's are available at the
Township Office, on this website, or via e-mail at

bpenntownship@yahoo.com

. Click on the link below
or go
to the

Applications for Permits

link on the left.


---
View from the sky looking at the East Snyder Community Garden!
East Snyder Community Garden
Garden plot applications and the rules and liability waivers are available by clicking on the link below
or these can be found with more information within the
Community Garden link in the left column of the home page.
Pe
nn Township recycling site continues to exceed our expectations
!

Except for the occasional items like, an iron, plate glass, a couple tires,
and the numerous plastic 'clam shell' type containers,
our residents and the surrounding areas are doing a good job
at only leaving the acceptable items.


The security cameras are up and running,
allowing us to review any visit to our recycling bin.
Charges will be filed against anyone who abuses our site.
Bins are clearly marked indicating what goes where.
There is an information flyer for recycler's on the fence with detailed
bin information and is updated as warranted.
Take a look at the board along the fence.
This displays items left behind that are NOT accepted here.
Quick list of things to note:
All boxes must be broken down.

NO deli trays, NO strawberry containers, NO clear plastic cookie trays and the like, these are NOT a #1 or #2 bottle or jug.

Take all your bags home with you -

unless they contain shredded paper

Read the signs on bins, they are clearly marked.

Plate glass is not allowed - we are not the landfill.

Compressing any plastics and returning lid to container saves lots of space and makes our site even more efficient...keeping it free!

Cardboard bin - all cardboard, books (hard and soft cover), junk mail, packaging boxes, bagged shredded paper, ANY clean dry paper material go in this one bin!
The printable document below has a map of the site indicating
how the bins will be situated and what goes in each.
Caps may remain on all #1 and #2 plastics!
Rinse, compress and return cap to bottle or jug.
We hope you find Penn Township's website useful and informative. Explore the links in the left margin. Check back often for new updates and information.



Penn Township Contact Information

:



e-mail

- penntwp@ptd.net


telephone

- (570) 374- 4778


fax

- (570) 374- 4931











Community Build Day Photo - October 2007
Send technical questions to webmaster@penn-township.net
Copyright © 2009 Township of Penn, Snyder County, Pennsylvania, All Rights Reserved