Welcome to our PennTownship Website!
Scroll down for a

quick view

of

what's new

in the township.
See links along the left for more detailed information.
"Like" Penn Township on Facebook!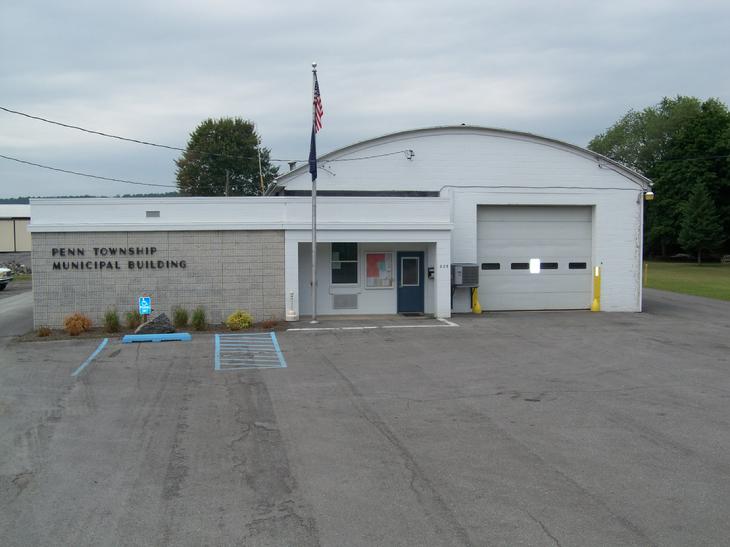 Penn Township Building - 2011
The Penn Township Municipal Building
Critical Information for the Penn Township Recycling Program / Site
Penn Township along with other recycle locations in Snyder County have received news that when our current contracts with our hauler LCRMS (Lycoming County Resource Management Services) expire on 12/31/2016, they WILL NOT be renewed in their current form. Meaning we will have to pay to have the bins emptied...want to see what the expected cost might be, open the document below.
Penn Township specifically has never paid to have materials pulled. With the current state of recycling markets LCRMS loses money every time they pull one of our bins. We are actively working with SC Recycling, DEP, DCED, the County and others in our situation to try and find the best solution.
Please click on the attachment below to read more on Penn Township specifically.
Leaf collection will resume

Wednesday, Nov. 30 thru Friday, Dec.2

Then a FINAL pass will be made througout the Township

Remember leaves should be placed at the edge of your lawn or property, NOT in the roadway, or on the shoulder or berm.




PLACE LEAVES IN A LONG WINDROW ALONG YOUR PROPERTY RATHER THAN ONE HUGE PILE OR DEEP INTO YOUR PROPERTY. THE TOWNSHIP EMPLOYEES CAN ONLY COLLECT THE LEAVES FROM THE RIGHT OF WAY AND CANNOT ENTER ONTO YOUR PROPERTY TO COLLECT LEAVES.




No bags, no sticks, no stones and please, no pet waste

!






http://snydercountylibraries.org/
The Penn Township Board of Supervisors will be holding Special Meetings as needed on Monday, October 3, 2016 - Monday, October 17, 2016 - Monday, November 14, 2016 - Tuesday, December 6, 2016 at 2:30 pm at the Municipal Building at 228 Clifford Road, Selinsgrove, PA. Purpose of the meetings are budget workshops. Open to the public.
| | |
| --- | --- |
| This eagle was spotted on Saturday, November 5th in the field along Quarry Road near State School Road. Sightings were reported by many residents of the Meadowview Development and some reported there were two eagles. This photo was submitted by Mike Winn. The eagle population is truly making a comeback, let's always be thrilled by their sightings. | Submitted by resident Mike Winn. |
FLOOD PREPARATION, PLANNING AND SAFETY INFORMATION
Click on the FLOODING link in the left column for lots of useful information in learning how to prepare and protect your family in a flooding event. Guides to help you in the aftermath of a flood or other disaster and where you can find help.
Calendar of Penn Township Events and Meetings
←
Click on the calendar link in the left column.
---
---
---
PUBLIC NOTICES
Hey look, a new tab on our homepage. In the left column we have added PUBLIC NOTICE. Click on this tab to see all public notices that have been advertised. Penn Township publishes all public notices in the Daily Item and / or The Snyder County Times
Another option to find ALL advertised public notices in Pennsylvania, see www.publicnoticepa.com Open this page and look on the left side you search the Daily Item for all their published PUBLIC NOTICES.
Penn Township Zoning Map and Zoning Ordinance

For some time the Penn Township Planning Commission, at the request of the Board of Supervisors have been working to update the entire Penn Township Zoning Ordinance 2005-01. With this update so comes the possibility of updates to the Penn Township Zoning Map.
Please DO NOT be alarmed there will be changes to zoning that will happen without informing our residents. No changes will be finalized and made to our ordinance or zoning map without proper advertisement to get word to our residents. This information will come via this website, emails to township residents, the township newsletter, public hearings and advertisements in the local newspaper.
Over the years, a few residents have asked the township to consider changes to certain zones in the township. If you are one of these people and are a landowner in Penn Township and you want a zone change considered for your land parcels, please provide your request in writing to Penn Township, Attn: Planning Commission, 228 Clifford Road, Selinsgrove, PA 17870. This written request should include as much detail of your situation that you can provide along with contact information.
The map below is the Penn Township Zoning Map. While it may not be the easiest to see it will give you an idea how Penn Township is zoned. The map prior to adding to this website is a zoomable map. If that feature is inaccessible on the map below...if you email bpenntownship@yahoo.com and request a zoomable version we will get that right out to you.
Penn Township Zoning Map
EAST SNYDER COMMUNITY GARDEN

971 UNIVERSITY AVENUE
See the Community Garden link in the left column to access the 2016 Garden Plot Registration Form and the 2016 Rules and Waiver document.
It's not too late to rent your space.
The amazing American flag found in the attic of the
What should we do, if anything, with this flag?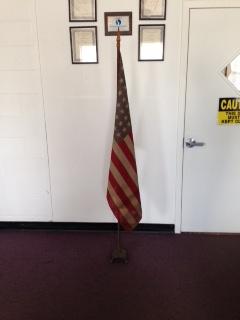 American flag found in the attic of the township building.
Base found with the American flag in the attic.
This never changes no matter the year, the season, or the neighborhood.
...if you walk your dog through our Penn Township neighborhoods or the East Snyder Park, please be courteous and clean up after your pet.
If your dog is off your property it is your responsibly to have your dog on a leash and you must cleanup after him or her.
Dog Issues - SC DOG WARDEN - Ken Snyder, 570-350-7381
Did you know Penn Township has a 48 acre business park waiting to be filled?
Pawling Station Business Park sits along Route 522 headed west toward Middleburg at the end of our township.
This business park has five 3 to 21 acre lots zoned industrial. The lot lines are flexible and the mixed-use park is pad ready. All sites are equipped with public water, public sewer, natural gas, three-phase electric, access to high-speed internet and a common stormwater management system.
check it out...www.gsvcc.org/pawlingstation
All past issues of the Penn Township newletter are available in the Newsletter tab in the left column,
just click and all past newsletters are available there.
A newsletter was not published in 2015 but we have hopes of getting back into the swing of things and get one out in 2016
.
Veteran's Memorial in the East Snyder Park
Battram Pavilion
pavilion # 1 - next to the horseshoe pitching area
and
Van Nuys Family Pavilion
pavilion #2 - behind the LL Field, nearest the original softball fields
Reservations are now being accepted for 2017
To check your date call today!
570-374-4778
Both pavilions are located in the East Snyder Park.
The pavilions are always open for use by the general public,
but are available for private use and may be reserved for your event.
The 2016 non-refundable fee to reserve a pavilion is $50.
Space will be confirmed and held only after receiving payment.
Please verify availability with the Township office
at (570) 374-4778
before making your plans.
---
To reserve a pavilion a

User's Agreement

is
required.
Agreement's are available at the
Township Office, on this website, or via e-mail at

bpenntownship@yahoo.com

. Click on the link below
or go
to the

Applications for Permits

link on the left.


---
East Snyder Community Gardens

→→→→→

Along University Avenue across from the East Snyder Park.

Rent your own personal garden space.

See the East Snyder Community Garden link in the left column.



We hope you find Penn Township's website useful and informative. Explore the links in the left margin. Check back often for new updates and information.



Penn Township Contact Information

:



e-mail

- penntwp@ptd.net


telephone

- (570) 374- 4778


fax

- (570) 374- 4931











Community Build Day Photo - October 2007
Send technical questions to webmaster@penn-township.net
Copyright © 2009 Township of Penn, Snyder County, Pennsylvania, All Rights Reserved